A.P. Property Services Rochester Airshow Aircraft line up
(Scheduled to appear-subject to change)
United States Air Force Thunderbirds, Michael Goulian Aerosports, Rick Volker SU-26 Aerobatics, Red Line Aerobatic team, Mustang Demo Team, Class of '45, Bent Wing Bros. (Corsair Demo), Jason Flood (S2B Pitts & Cub Comedy Act), NWM C-47 "Whiskey 7", C-17& KC-135 Demo (Requested), USAF Bomber Flyby (Requested), C-5 Galaxy (Static-Awaiting approval), KC-135 (Static-Awaiting Approval), Other Military Demos (Requested)
United States Air Force Thunderbirds
The USAF Air Demonstration Squadron ("Thunderbirds") is the air demonstration squadron of the United States Air Force (USAF).[1] The Thunderbirds are assigned to the 57th Wing, and are based at Nellis Air Force Base, Nevada. Created 70 years ago in 1953, the USAF Thunderbirds are the third-oldest formal flying aerobatic team (under the same name) in the world, after the United States Navy Blue Angels formed in 1946 and the French Air Force Patrouille de France formed in 1931.
The Thunderbirds Squadron tours the United States and much of the world, performing aerobatic formation and solo flying in specially marked aircraft. The squadron's name is taken from the legendary creature that appears in the mythologies of several indigenous North American cultures.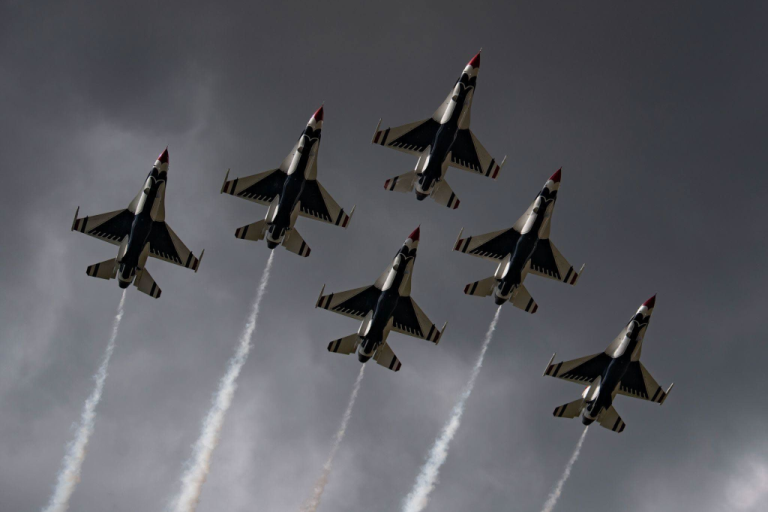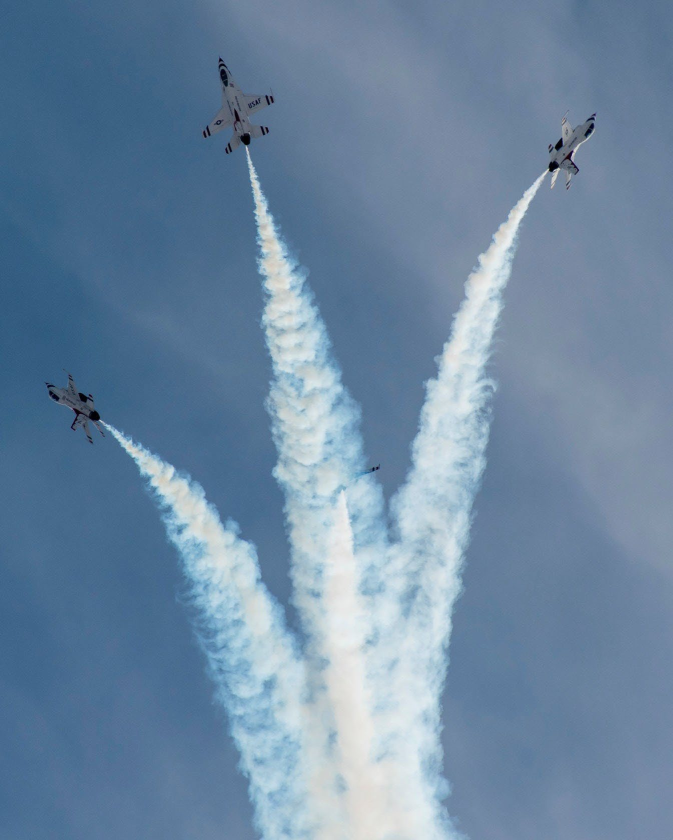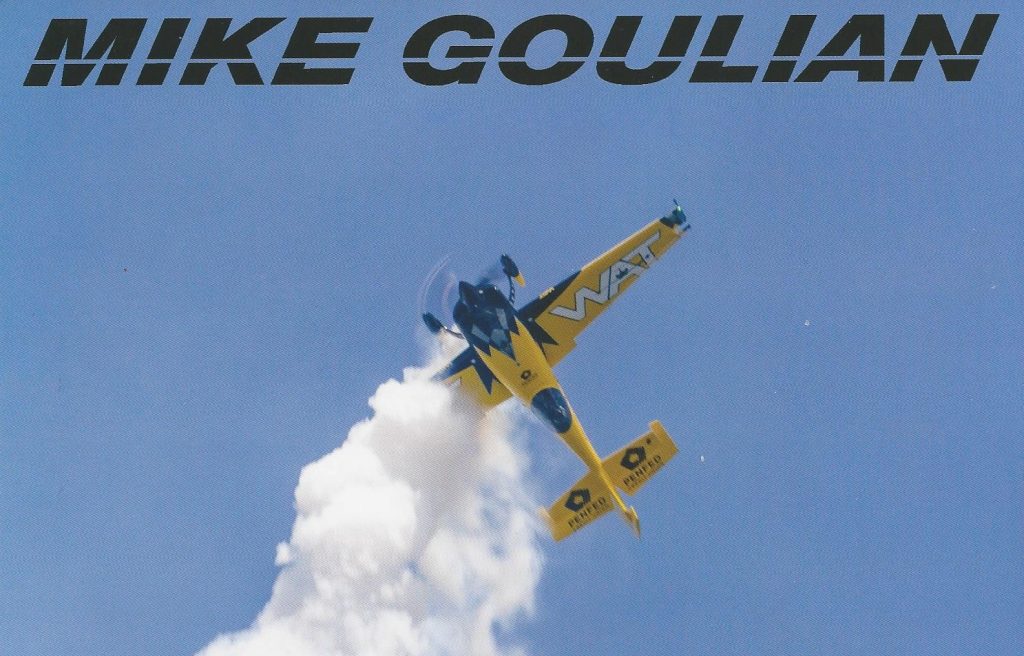 Red Bull Air Race World Championship
Career Highlights
2018: 3rd Place in World Championship
2018: Winner: Indianapolis, IN, USA & Abu Dhabi, United Arab Emirates
2018: 2nd Place: Chiba, Japan and Kazan, Russia
2017: DHL Fastest Lap Award – Abu Dhabi
2009: Winner: Budapest, Hungary
12 years as Master Class competitor
Michael Goulian Aerosports
Michael Goulian is a multi-disciplined aerial demonstration pilot. Beginning his career in the competitive world of aerobatics, Goulian earned the distinction of becoming one of the youngest pilots to ever win the United States Unlimited Aerobatic Championship at the age of 27. His signature air show performance combines the heart-stopping gyroscopic tumbling of modern display flying with the crisp, aggressive, demands of precision competition aerobatics.
In 2006, Goulian joined an elite group of pilots competing in the Red Bull Air Race World Championship. Competing as Team #99, Goulian and his team are engaged in a battle of technology, skill, and execution against 13 of the world's fiercest competitors.
Air Show & Competition
Career Highlights
2011 ICAS Sword of Excellence
2009 Bill Barber Award for Showmanship
2006 Art Scholl Showmanship Award
3 Time member: US National Unlimited Aerobatic Team
1995 United States National Unlimited Aerobatic Champion
1990 United States National Advanced Aerobatic Champion
Rick Volker – Sukhoi SU-26 M Aerobatics
Rick has created a unique performance in the Sukhoi SU-26M. There is a common theme in all of his displays: Complete mastery of the aircraft's possible flight envelope, pushing the boundaries of both low and high speed limits, and artfully utilizing the smallest three dimensional space to create a masterpiece of entertainment.
The Sukhoi SU-26M is like no other Unlimited aerobatic airplane. Designed in an era of unlimited Soviet budgets, it's a super plane out to prove a point… and the point was made with after win in the World Aerobatic Championships. Its ultra high lift wing features a massive symmetrical camber. The titanium and composite airframe can withstand G loads that are unsurvivable by humans (even Rick). Paired with the nearly 400 horsepower Vendeneyev M-14P radial engine, a better than 1:1 thrust to weight ratio was achieved. The result is a plane that can do the things it does in any flight attitude, and many things that can't be replicated by any other aircraft. Rick takes full advantage of the Sukhoi's unique capabilities. His routines are a roller coaster of artistry and athleticism, alternating frequently between violent maneuvers and delicate finesse.
Entering the competition aerobatic world by storm, Rick won numerous regional Unlimited aerobatic contests, such as the Can-Am, Henry Haigh, and Kathy Jaffe Challenges in both the Pitts biplanes and Sukhoi monoplanes. He is a former competitor in athletic events such as swimming, speed skating, bicycle racing, cross-country skiing, body building, and he is an active track cyclist. This is the type of conditioning required to fly at this level, as it tests the limits of human endurance. While flying Unlimited aircraft, Rick alternates between plus-11 and minus-9 Gs, often in the same maneuver.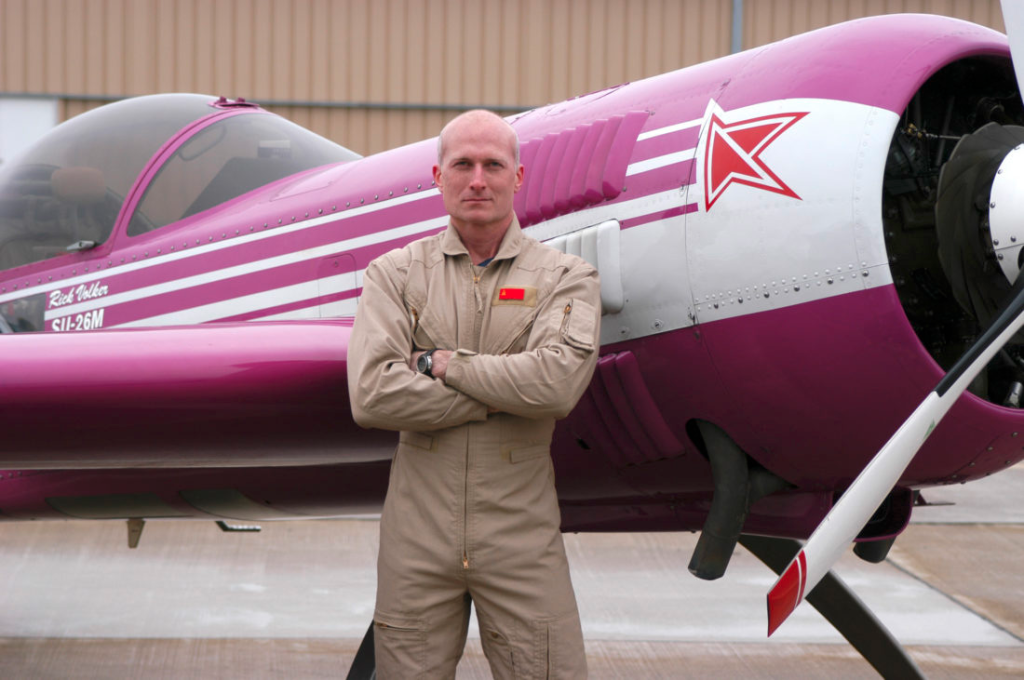 The Sukhoi SU-26 M was designed and built in Moscow by the Sukhoi Design Bureau: the principal supplier of fighters, bombers and attack aircraft to the Russian military. The SU-26 M combines a 360-400 HP nine cylinder radial engine with a composite and titanium airframe to create an aircraft capable of hovering in place, reaching 280 mph and handling more G forces than an F-16. In this aircraft, the pilot becomes the limiting factor of what can be demonstrated. The Sukhoi is the most sought-after competition aircraft in the world. Rick's Sukhoi SU-26 M was featured on the Discovery Channel series "How Machines Work".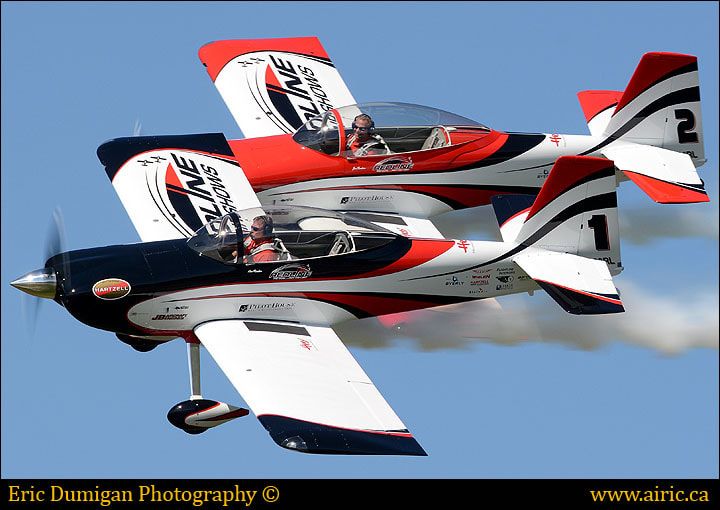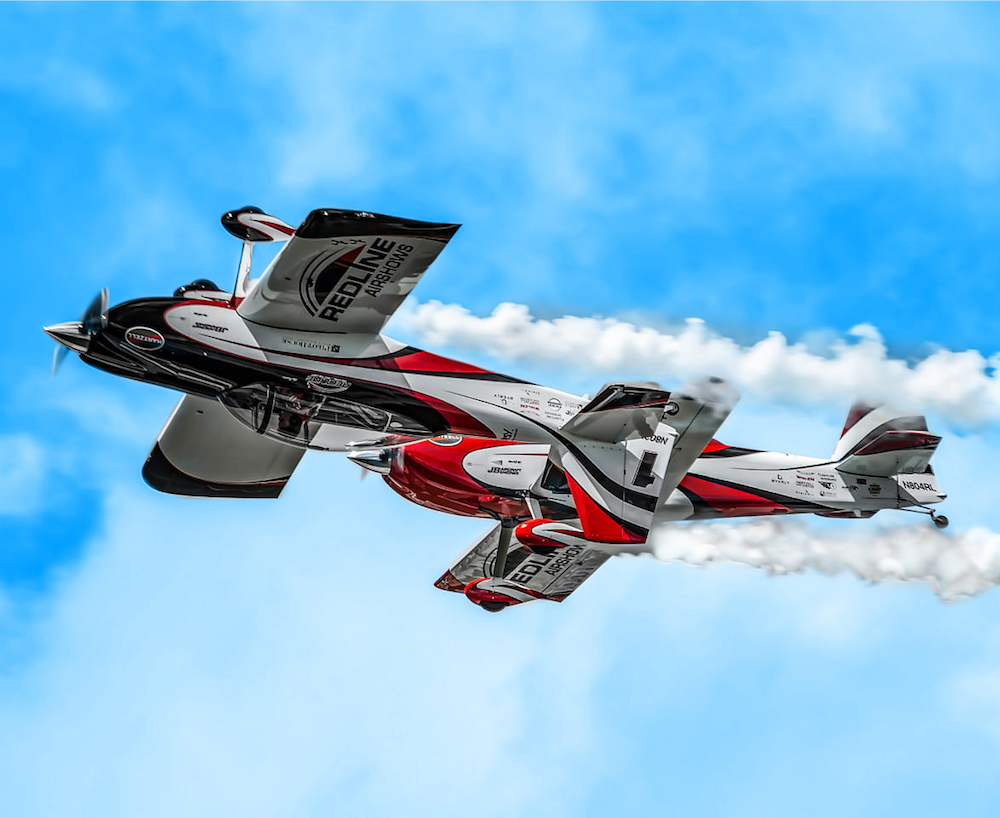 Redline Airshows
Redline Airshows is a dynamic, two-ship formation aerobatic performance team composed of Ken Rieder and Shaun Roessner. The team flies Van's RV-8 aircraft and have a reputation for putting on an outstanding aerobatic demonstration popular with air show crowds. The opposing, inverted and formation maneuvers are a crowd pleaser. Ken resides in Cincinnati and is proud to say that attending the Dayton Air Show at the age of 15 inspired his career in aviation.
Did You Know?
Ken was inspired by the US Navy Blue Angels to pursue aviation!
Shaun has flown in the Dayton Air Show in 2016 and 2017 as the U.S. Navy Tac Demo pilot!
RV-8 Fast Facts:
Wingspan: 24 feet
Length: 21 feet
Height: 5 feet, 7 inches
Speed: 230 mph
Empty Weight: 1,120 pounds
Maximum Gross Weight: 1,800 pounds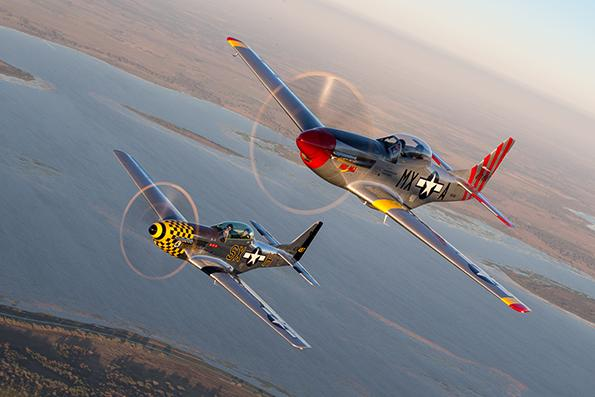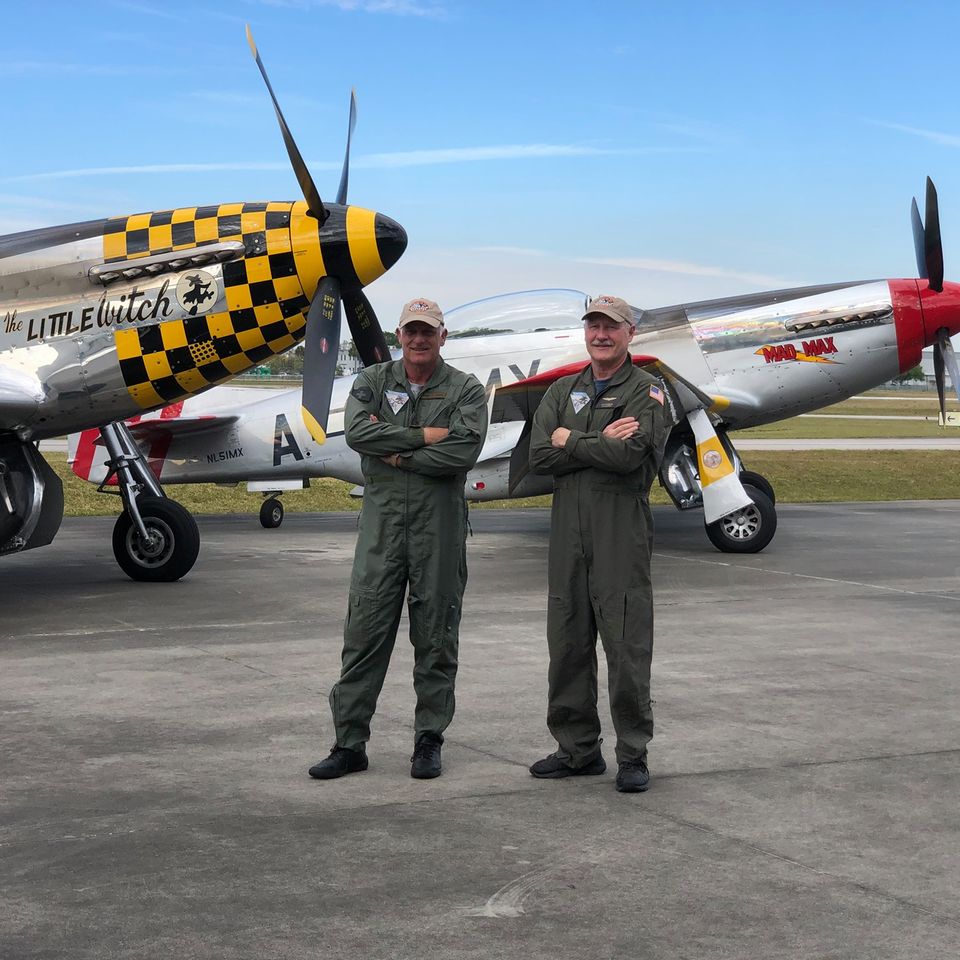 High Flight Mustangs P-51 Demo Team "Little Witch" & "Mad Max"
Lou Horschel and Ariel Luedi form a unique P-51 acrobatic demo team. Mad Max is a Cavalier Mustang II that flew with El Savador FAS 401 in 1969. Owner : Lou Horschel The Little Witch was originally built as a D-Model and was transferred to the RCAF Squadron 420 in 1950. Owner : Ariel Luedi.
Class of '45
Scott Yoak and his P-51 Quick Silver, The Resurrected Veteran, return to Rochester this year and are bringing along his friend and ours, Jim Tobul, and his F-4U Corsair, Korean War Hero. Together they form the aerobatic "Class of '45" Airshow Team in "Honor of Those Who Served".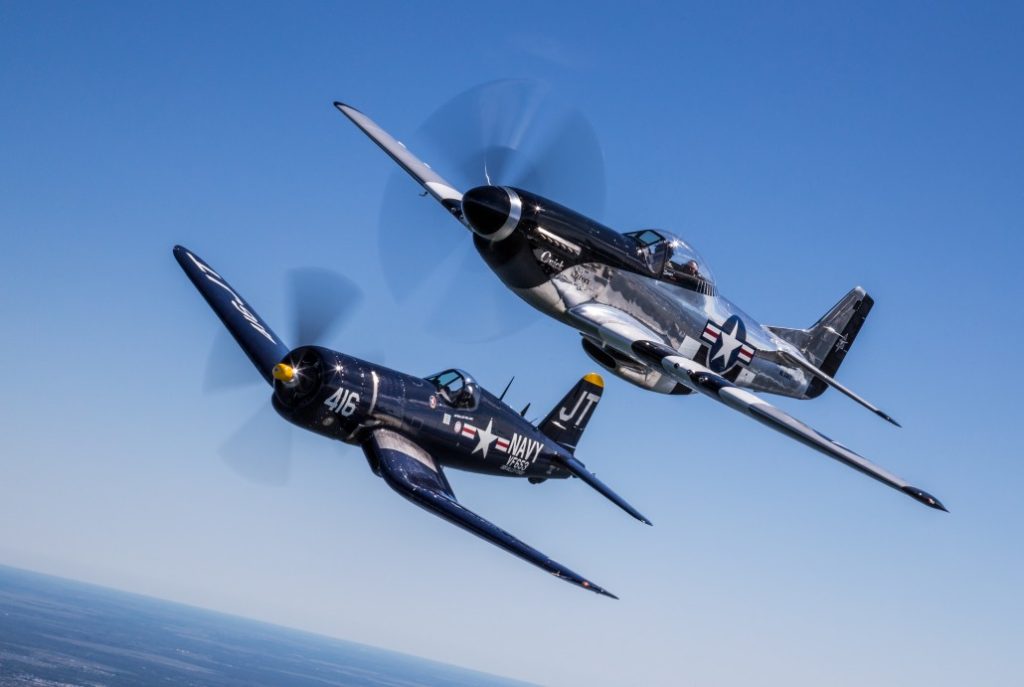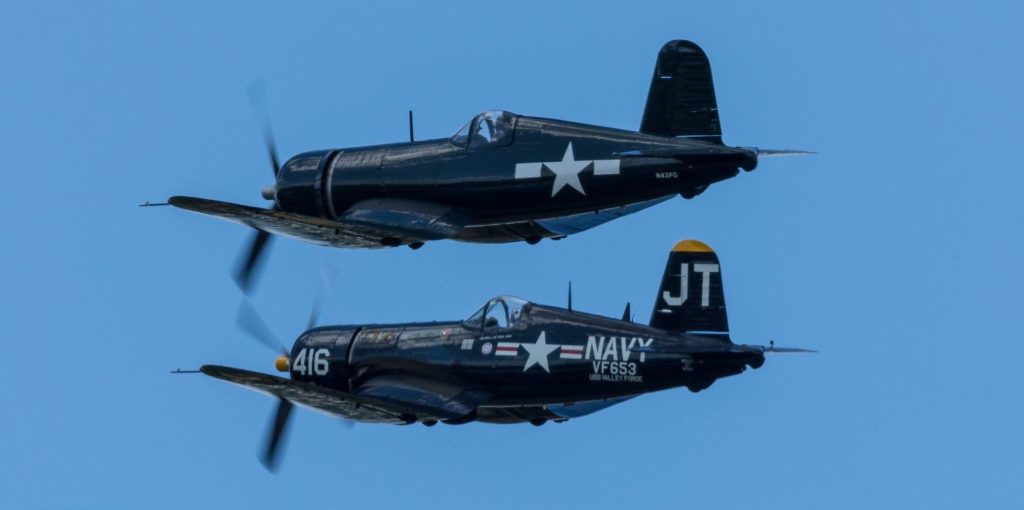 Bent Wing Bros. (Corsair Demo)
The original Corsair dual act routine of Jim Tobul in his F-4U-4 Corsair and Lou Horschel in his Goodyear FG-1 D. The Bent Wing Bros. (Brothers) have performed in Rochester before and we welcome them back this year.
Misty Blues Skydiving Team
The Misty Blues team is 100% women. The ladies on the team come from all across the US to demonstrate their amazing skydiving skills. Since the early 1980's The Misty Blues All Woman Skydiving Team has been thrilling audiences at air shows, corporate events and other special occasions around the world. These exceptionally talented and brave ladies delight in displaying their parachuting talents that make them some of the most skilled skydivers in the world.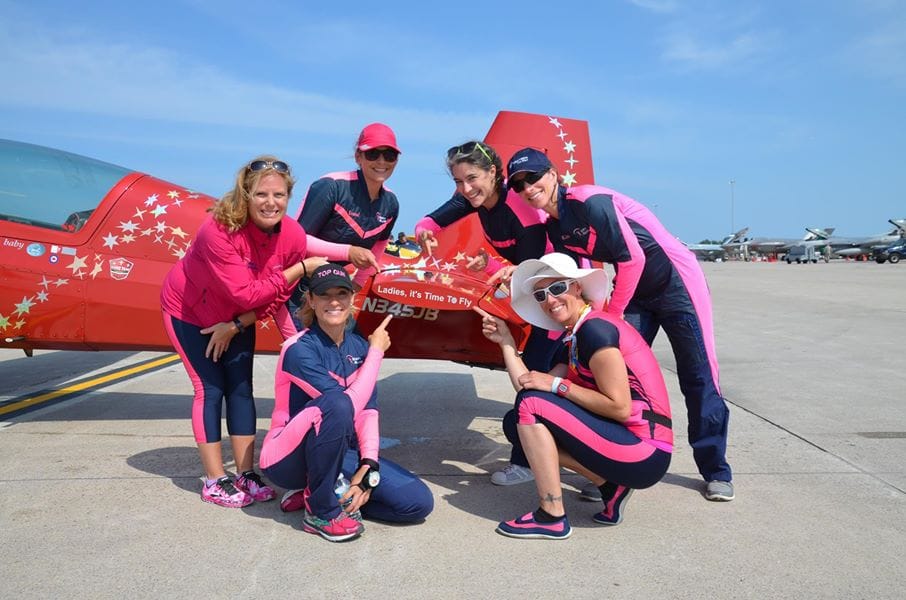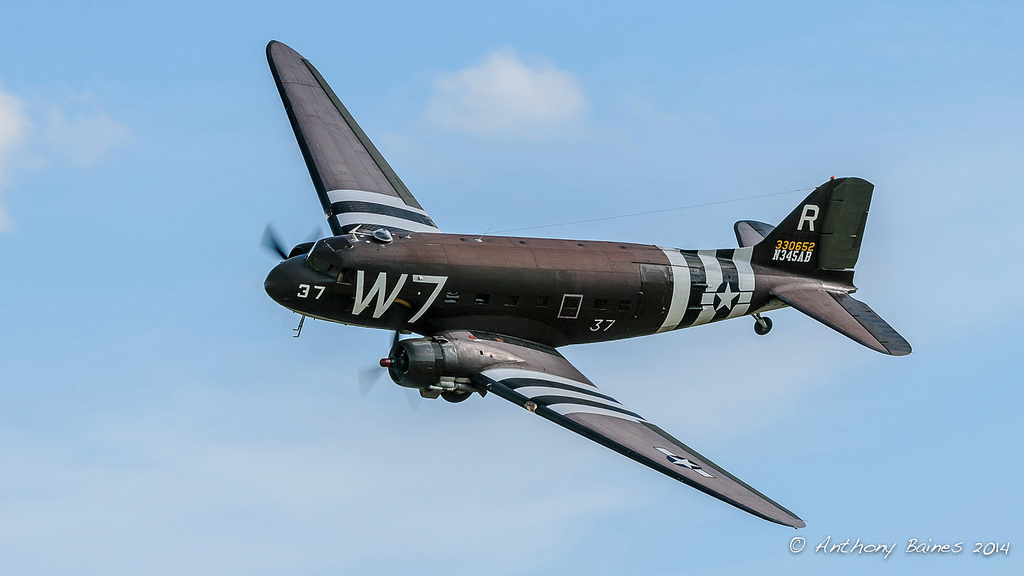 National Warplane Museum Whiskey 7
The C-47 Dakota was the cargo aircraft which was the workhorse of the Army Air Corps during World War II. It was also affectionately known as the "Gooney Bird". It served in all theaters of the war and served in civilian capacity to help establish the U.S. airlines.
W7 is truly a WWII veteran. This aircraft originally served with the 12th Air Force in the Mediterranean Theater in 1943 and the 9th Air Force in England 1944-1945 as part of the 316th Troop Carrier Group. It was one of the lead aircraft of the first strike of the D-Day invasion on June 6th, 1944 over Ste. Mere Eglise, Normandy. It transported paratroopers for the 82nd Airborne Division as part of Operation NEPTUNE. Flak was very heavy during these missions but this C-47 managed to survive it all.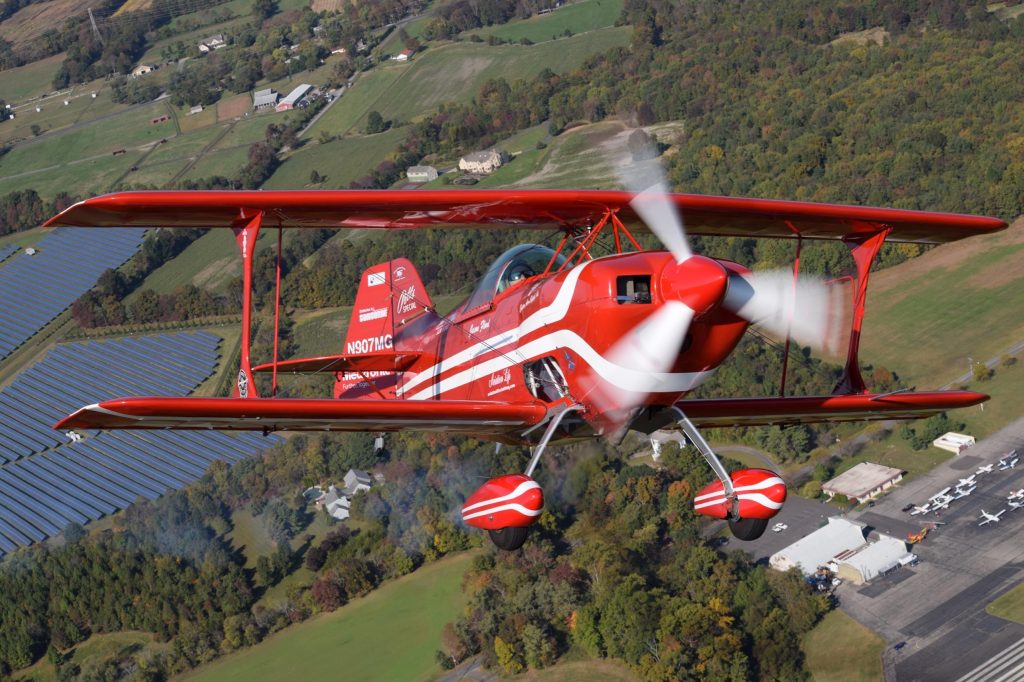 Jason Flood (S2B Pitts & Cub Comedy Act)
C-17& KC-135 Demo (Requested)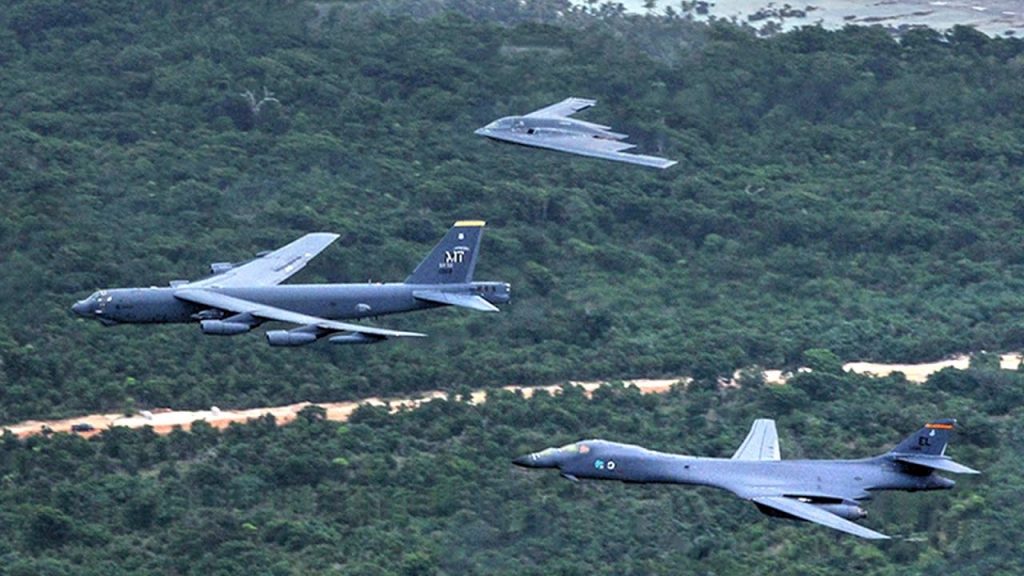 USAF Bomber Flyby (Requested)
C-5 Galaxy (Static-Awaiting approval)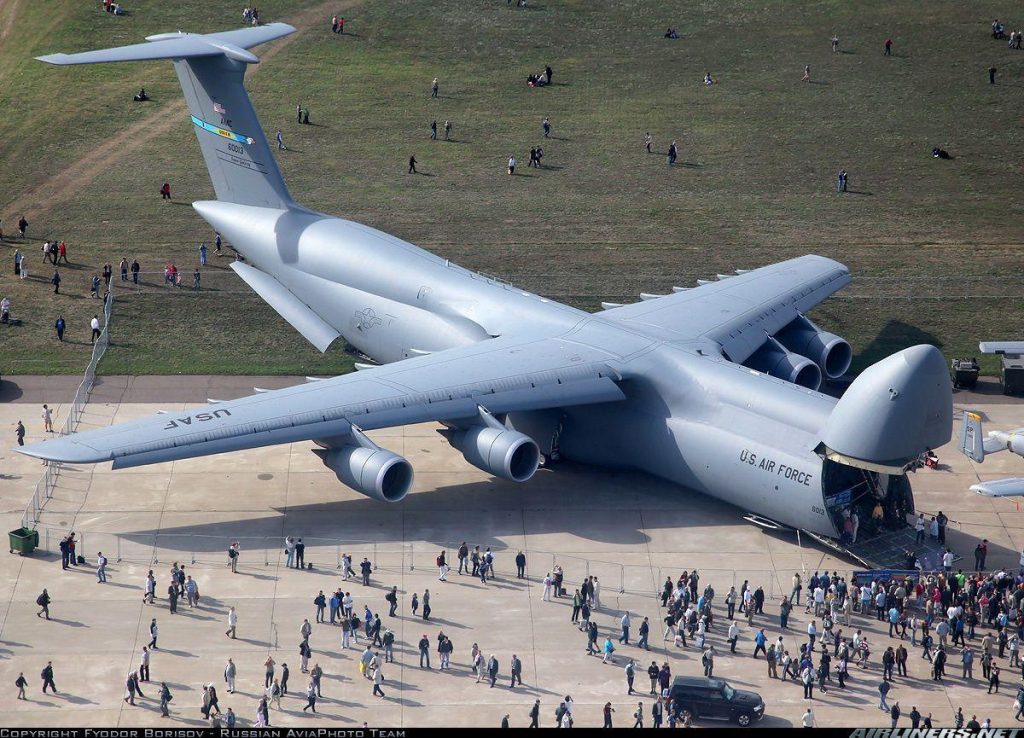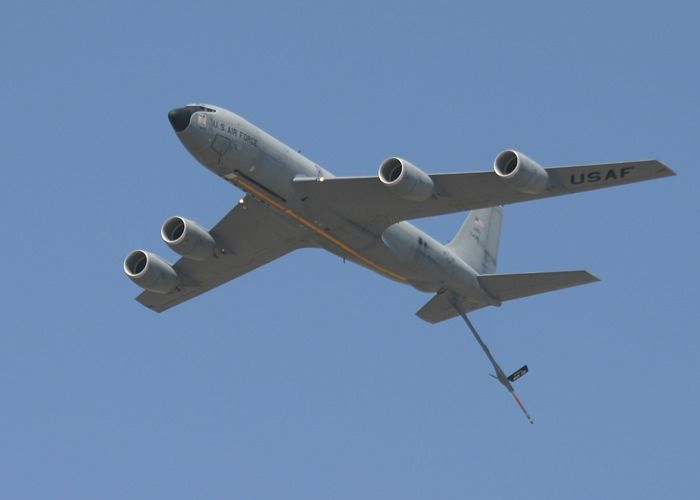 KC-135 (Static-Awaiting Approval)
The Boeing KC-135 Stratotanker is a military aerial refueling aircraft. Both the KC-135 and the Boeing 707 airliner were developed from the Boeing 367-80 prototype. It is the predominant variant of the C-135 Stratolifter family of transport aircraft. The KC-135 was the US Air Force's first jet-powered refueling tanker and replaced the KC-97 Stratofreighter. The KC-135 was initially tasked with refueling strategic bombers, but was used extensively in the Vietnam War and later conflicts such as Operation Desert Storm to extend the range and endurance of US tactical fighters and bombers.
Our KC-135 joins us from Niagara Air Reserve Station in Niagara Falls, NY.
Coast Guard MH-65
The US Coast Guard has approved an MH-65 Dolphin to be at the A.P. Property Services Airshow and to be both a static display and to present a Search and Rescue (SAR) demo during both days of the Airshow. The aircraft is based in Detroit Michigan and will arrive on August 11. For more info on the Dolphin visit: https://en.wikipedia.org/wiki/Eurocopter_MH-65_Dolphin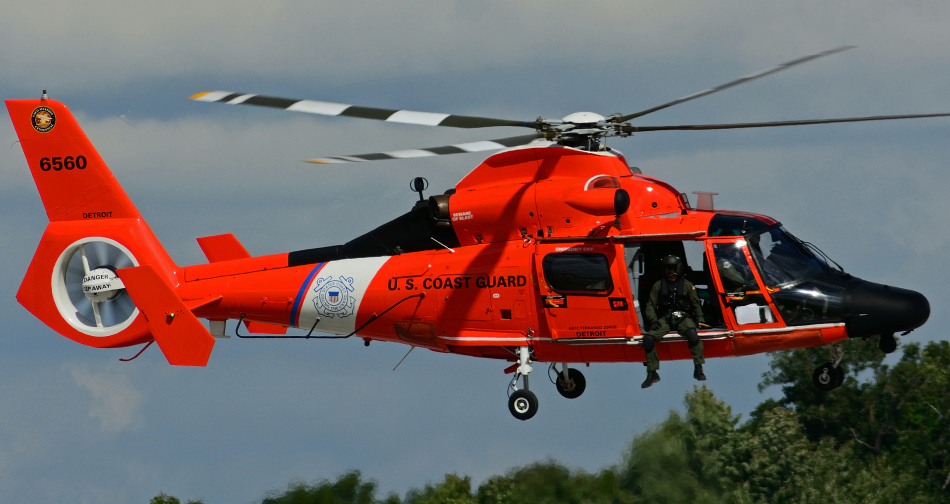 Other Military Demos (Requested)