VIP & Reserved Parking 2023
1313 Scottsville Road
Rochester, NY 14623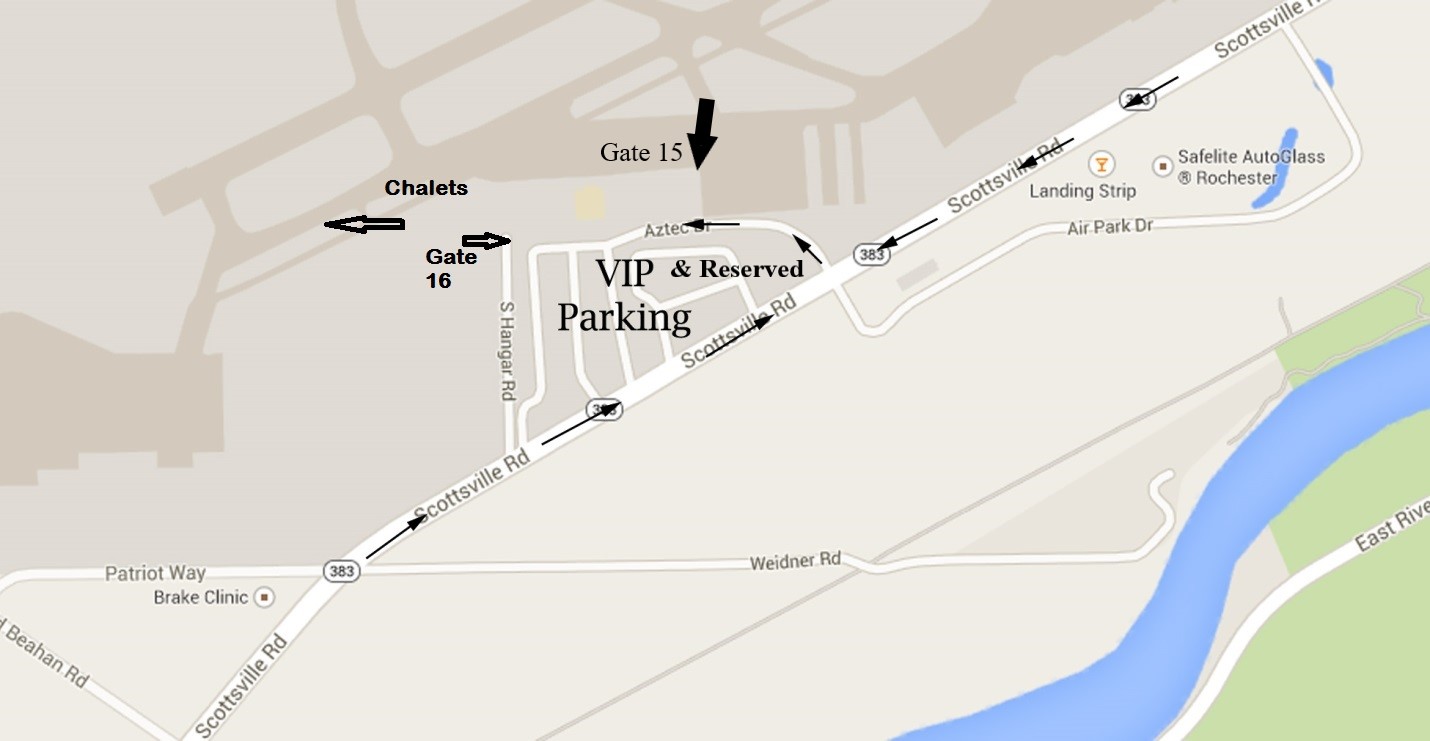 RIT Campus & Shuttle Map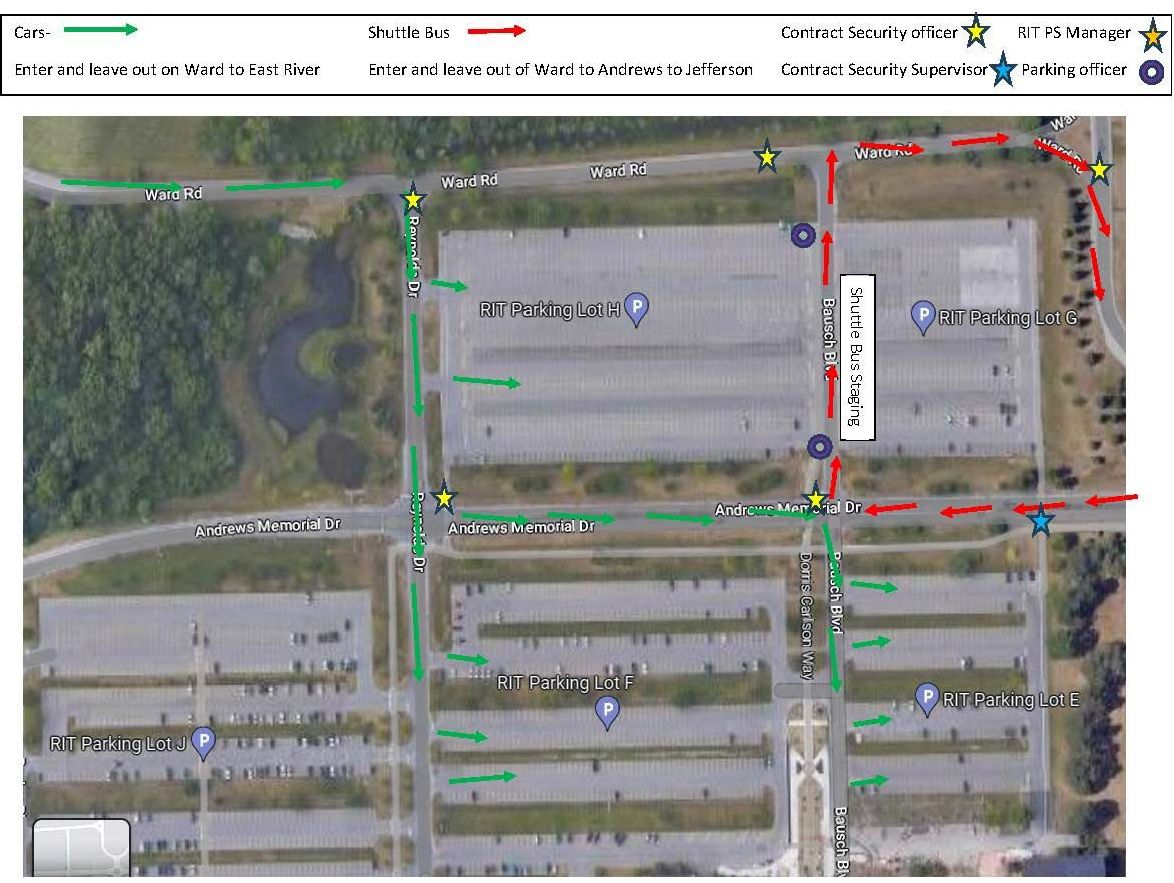 Note: RIT Public Safety Manager and Contract Security Supervisor will be placed as needed under their own direction. Rochester Institute of Technology is not responsible for any damage done to your vehicle while parked on the RIT campus, or items that are lost or stolen from your vehicle. The owner accepts all risks related to the use of any parking lot on the RIT premises. Any vehicles left overnight will be towed at the owner's expense.
DIRECTIONS FOR PARKING AT RIT
1. Take Jefferson Road south to East River Road
2. Turn Left onto East River Road
3. Turn Left onto Ward Road
4. Turn Right into Reynolds Dr
5. Turn Left into Parking Lot
6. Follow Directions of Parking Attendants TO Shuttle Buses
7. Parking and Shuttle Bus cost is $15.00 per car, and may be purchased in advance.
After payment or presentation of your shuttle parking pass, you will receive a "BUS PASS" per family to ride the shuttle. No return pass is required.
PLEASE…NO FOOD, NO COOLERS, NO PETS, NO WEAPONS, WAGONS, OR TENTS
Leave them in your vehicle
A.P. Property Services Rochester Airshow August 12 & 13, 2023

General Admission-Adult
Reserved Seating (Limited Seating)
VIP Flight Deck (Limited Seating)
Parking-Choices Reserved or Shuttle
(Some Restrictions Apply)
A.P. Property Services Rochester Airshow Aircraft line up
(Scheduled to appear-subject to change)
United States Air Force Thunderbirds, Michael Goulian Aerosports, Rick Volker SU-26 Aerobatics, Red Line Aerobatic team, Mustang Demo Team, Class of '45, Bent Wing Bros. (Corsair Demo), Jason Flood (S2B Pitts & Cub Comedy Act), NWM C-47 "Whiskey 7", C-17& KC-135 Demo (Requested), USAF Bomber Flyby (Requested), C-5 Galaxy (Static-Awaiting approval), KC-135 (Static-Awaiting Approval), Coast Guard MH-65, Other Military Demos (Requested)
THANK YOU to those that purchased tickets to our 2023 airshow during our special holiday pricing!!
MONROE COUNTY EXECUTIVE ADAM BELLO ANNOUNCES 2023 A.P. PROPERTY SERVICES ROCHESTER AIRSHOW TICKETS NOW AVAILABLE FOR PURCHASE
For Immediate Release – Friday, December 16, 2022
United States Air Force Thunderbirds headline the event

ROCHESTER, NY —
Monroe County Executive Adam Bello and the Frederick Douglass Greater Rochester International Airport today announced that tickets are now on sale for the 2023 A.P. Property Services Rochester Airshow. The popular community event will return to the Rochester skies the weekend of Saturday, August 12 and Sunday, August 13, 2023, and will feature the United States Air Force Thunderbirds and other exciting aerial performers. This is the first Rochester Airshow since 2019, which also featured the Thunderbirds as the headline act.
"The A.P. Property Services Rochester Airshow is one of the most highly anticipated events in our region and Monroe County is honored to have been selected again as one of the 34 host communities for the Thunderbirds in 2023," said Monroe County Executive Adam Bello. "We look forward to welcoming the Thunderbirds to our airport for another performance in Monroe County – an experience that promises to leave spectators on the edge of their seats!"
ROC has been fortunate to host the Thunderbirds four previous times in the last 16 years when they were the featured act at ROC Airshows in 2005, 2008, 2014 and 2019. The Thunderbirds are the official air demonstration team of the United States Air Force and are stationed at Nellis Air Force Base in Nevada.
Each year the Department of Defense receives hundreds of requests to hold airshows. ROC was selected by the Thunderbirds at the 2021 International Council of Airshows (ICAS), where the team released its two-year schedule.
"A.P. Property Services is honored to work hand-in-hand with Monroe County, and proud to be the sponsor for the USAF Thunderbirds 2023 Airshow," said Sean Fico, President of A.P. Property Services.
In addition to the Thunderbirds, the A.P. Property Services Rochester Airshow will also include various aerobatic demonstrations, ground displays, local food vendors, entertainment and much more, promising to make it one of the "can't-miss" family events of the summer.
To purchase tickets to the 2023 A.P. Property Services Rochester Airshow please visit: www.RocAirshow.com.
USAF Thunderbird Media Kits (b-roll video) can be downloaded directly from the official USAF Thunderbird webpage at:
USAF Thunderbird Media Kits (video)
Media inquiries:
Gary Walker, Director of Communications
GaryWalker@MonroeCounty.gov
(585) 753-1064
Meaghan M. McDermott, Deputy Director of Communications
MeaghanMcDermott@MonroeCounty.gov
(585) 469-4365